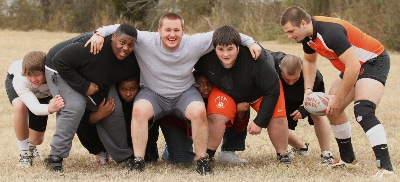 Powell Rugby Club participates in the Smoky mountain Athletic Club Conference as the East Tennessee Conference of the Tennessee Rugby Association. The club was founded in 2003 by Bob Hampstead.


Powell Youth Rugby page for more information on the Rookie Rugby or Touch Rugby.

This Year Powell has created a middle School Team. This team includes players from Powell, Northwest, and Gresham Middle schools. Check Practice Field Locations for more information.

With the help of all who support Rugby in the Powell Community, we will engage a Rugby program for the High School Level for the 2014-15 season. Thank you.

Powell Rugby Club.
Contact: Vincent Jardret. Txt. (865) 789-7661. vjardret@sportslockeroftn.com

Powell Rugby and Powell High School

Powell Rugby Club would like to thank Mr. Langlois, Principal, Mr. Carr, Athletic Director, and Ms. Bales, a Counselor at Powell High School for supporting the High School Rugby Team and working toward making Rugby a Club Sport again at Powell High School. This means so much to the students and facilitates recruiting and communication between the Club, players and parents.

For click on the link for information on Powell High School Atheltics.

Middle and Elementary School Programs!

Since its inception, the club has focused on High School Rugby with Boys and girls teams. Currently, we do not have enough players to have a Girls team. This year the club is enrolling Middle School and Elementary School age athletes. Players under 11 will play Flag Rugby within a Powell Junior Varsity League. Middle school players will practice and play games within the SMAC Conference and compete for the State Championship.

Head Coach: Vincent Jardret (865) 876-7661

Assistant Coach: Brandon Guard

For 2012-13 Season Information, go the Powell Rugby 2012-13 Season Page.

A short History of the Club is presented in the Since 2003 page.